NW Wholesaler
SKU:96512-32212
Regular price
Sale price
$11.00
Unit price
per
Sale
Sold out
300 in stock
Lucky Bamboo grows in water like cut flowers but will last for years. Hand-picked and packed with care in water gels to keep roots moist, ensuring your plant arrives green and healthy. Considered to bring good luck and fortune to its new owner, makes for a great gift for any occasion. Makes for the perfect home or office decor, display on a home or office desk, counter, tabletop, or anywhere out of direct sunlight.

According to the wisdom of ancient Asia, certain numbers enhance certain positive aspects of life. Simply having an arrangement of Lucky Bamboo in certain numbers will help increase the effectiveness of the ancient powers to flow into your environment.

• 1-Stalks together—attracts "good luck"
• 2-Stalks together—attracts "Love"
• 3-Stalks together—attracts "Happiness"
• 5 Stalks together—attract "Wealth"
• 7 Stalks together—attract "Health"
• Bamboo towers for powerful blessings

*𝑳𝒖𝒄𝒌𝒚 𝑩𝒂𝒎𝒃𝒐𝒐 𝒊𝒔 𝒂 𝒔𝒍𝒐𝒘-𝒈𝒓𝒐𝒘𝒊𝒏𝒈 𝒑𝒍𝒂𝒏𝒕
*𝑻𝒉𝒆 (𝑫𝒓𝒂𝒄𝒂𝒆𝒏𝒂 𝑺𝒂𝒏𝒅𝒆𝒓𝒊𝒂𝒏𝒂) 𝑳𝒖𝒄𝒌𝒚 𝒃𝒂𝒎𝒃𝒐𝒐 𝒈𝒓𝒐𝒘𝒔 𝒊𝒏 𝒘𝒂𝒕𝒆𝒓. 𝑨𝒗𝒐𝒊𝒅 𝒑𝒍𝒂𝒏𝒕𝒊𝒏𝒈 𝒕𝒉𝒆 𝒍𝒖𝒄𝒌𝒚 𝒃𝒂𝒎𝒃𝒐𝒐 𝒊𝒏 𝒔𝒐𝒊𝒍.



𝐏𝐫𝐞𝐟𝐞𝐫𝐫𝐞𝐝 𝐞𝐧𝐯𝐢𝐫𝐨𝐧𝐦𝐞𝐧𝐭:

• Water temperatures between 59°F to 80°F
• Low to moderate lighting

*𝑴𝒂𝒌𝒆 𝒔𝒖𝒓𝒆 𝒕𝒐 𝒄𝒐𝒎𝒑𝒍𝒆𝒕𝒆𝒍𝒚 𝒓𝒆𝒎𝒐𝒗𝒆 𝒂𝒍𝒍 𝒘𝒂𝒕𝒆𝒓 𝒈𝒆𝒍𝒔 𝒖𝒔𝒆𝒅 𝒇𝒐𝒓 𝒔𝒉𝒊𝒑𝒑𝒊𝒏𝒈.


𝐖𝐡𝐚𝐭'𝐬 𝐈𝐧𝐜𝐥𝐮𝐝𝐞𝐝:

• A black koi pot.
• 5 Stalks arrangement.


*𝑷𝒍𝒆𝒂𝒔𝒆 𝒄𝒉𝒆𝒄𝒌 𝒍𝒐𝒄𝒂𝒍 𝒘𝒆𝒂𝒕𝒉𝒆𝒓 𝒄𝒐𝒏𝒅𝒊𝒕𝒊𝒐𝒏𝒔 𝒃𝒆𝒇𝒐𝒓𝒆 𝒑𝒍𝒂𝒄𝒊𝒏𝒈 𝒐𝒓𝒅𝒆𝒓𝒔.
*𝑩𝒂𝒎𝒃𝒐𝒐 𝒊𝒔 𝒎𝒆𝒂𝒔𝒖𝒓𝒆𝒅 𝒃𝒚 𝒕𝒉𝒆 𝒉𝒆𝒊𝒈𝒉𝒕 𝒐𝒇 𝒕𝒉𝒆 𝒔𝒕𝒂𝒍𝒌. 𝑳𝒆𝒂𝒗𝒆𝒔 𝒎𝒂𝒚 𝒂𝒅𝒅 𝒂𝒅𝒅𝒊𝒕𝒊𝒐𝒏𝒂𝒍 𝒉𝒆𝒊𝒈𝒉𝒕 𝒏𝒐𝒕 𝒎𝒆𝒂𝒔𝒖𝒓𝒆𝒅. 𝑨𝒍𝒍 𝒔𝒕𝒂𝒍𝒌𝒔 𝒂𝒓𝒆 𝒈𝒖𝒂𝒓𝒂𝒏𝒕𝒆𝒆𝒅 𝒕𝒐 𝒉𝒂𝒗𝒆 𝒂𝒕 𝒍𝒆𝒂𝒔𝒕 𝒐𝒏𝒆 𝒍𝒆𝒂𝒇.

Share
View full details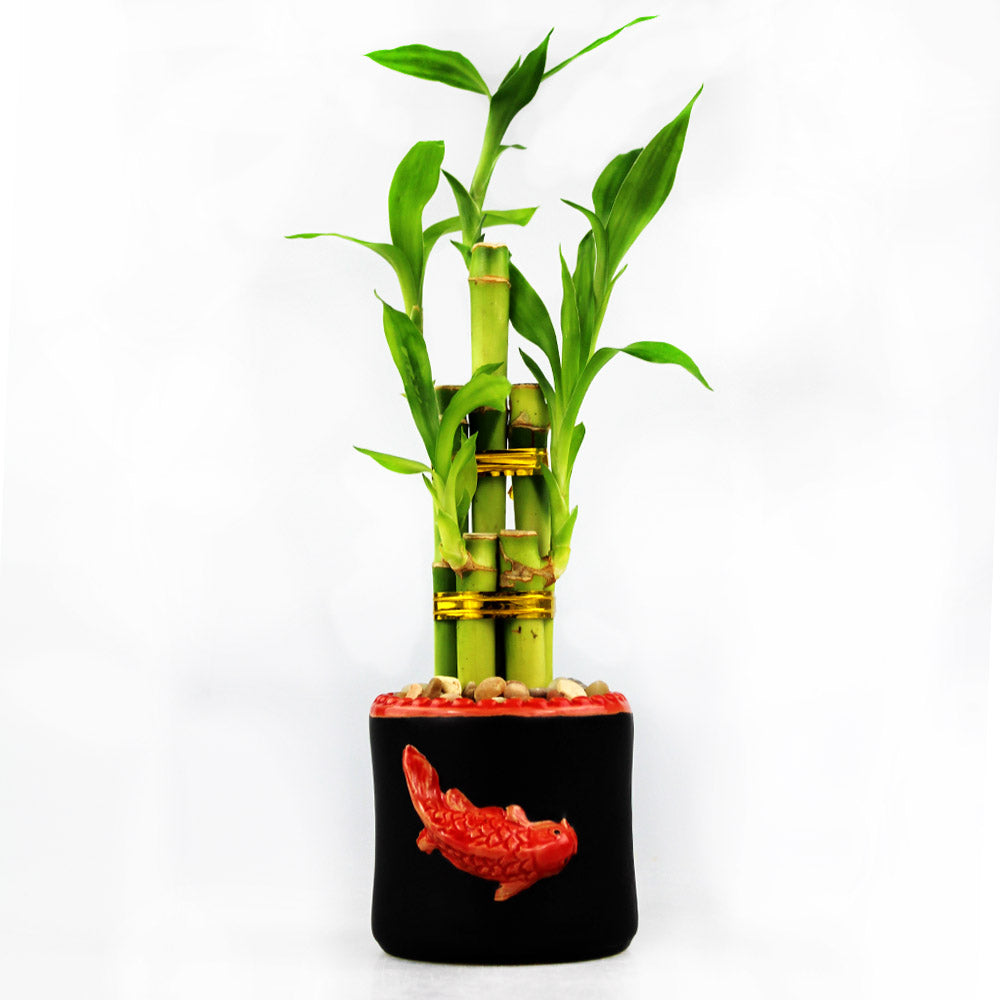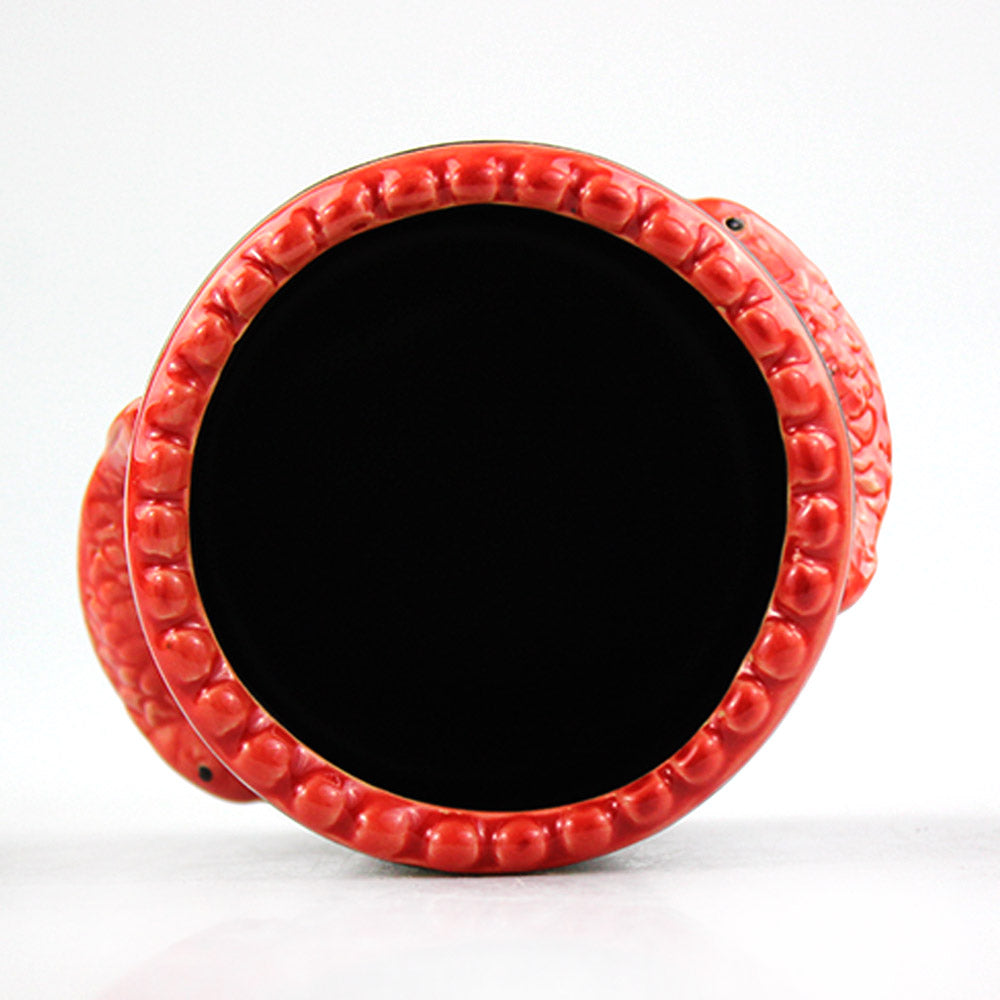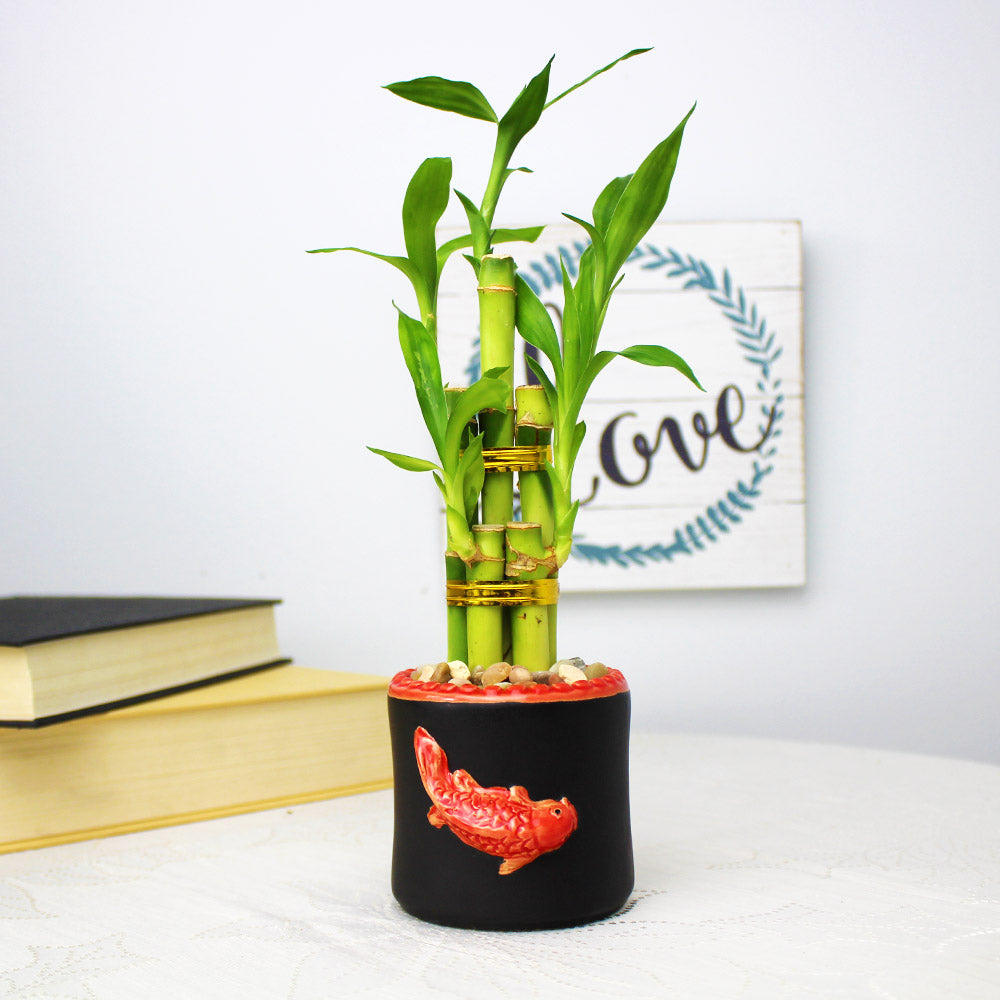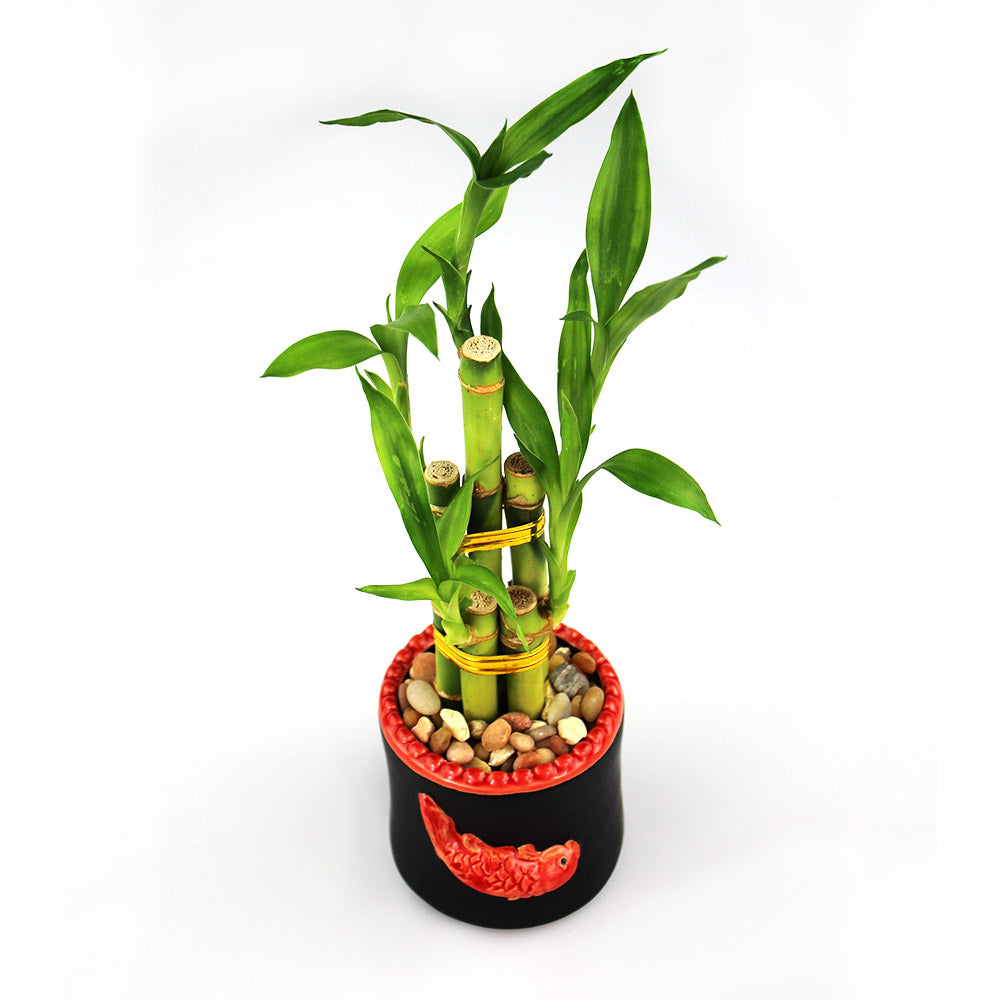 Let customers speak for us